​​This is the third of seven times the list maker references
T'hillim / Psalm 2
as a "prophecy" that Jesus fulfilled. Again: psalms are not prophetic. Psalms are prayers and poems written primarily by King David to praise G-d. They are found in "Writings" in the T'nach, not "Prophets."
The list maker is "double dipping" as well by attaching "his character – holiness"to T'hillim / Psalm 2:6. . . after all the listmaker made this same claim and tied it to an earlier "proof",
Number: 26. Ex. 15:11 His Character - Holiness Luke 1:35, Acts 4:27
. If this is the same claim why is it counted again? The only reason seems to be to get to the magic number of "365 prophecies fulfilled."
T'hillim / Psalm 2:6
is not speaking of the holiness of G-d or the messiah. King David wrote this psalm about the Philistines attacking him.
Line 2
(referenced in
#58. ​Psalms 2:2 To own the title, Anointed (Christ) Acts 2:36
) has David saying
"Kings of a land stand up, and nobles take counsel together against the Lord and against His anointed?"
David is saying that the Philistines knew that he, King David, was G-d's anointed (messiah) and thus by attacking David they were in a sense attacking G-d.
David then says in
line 5
:
"He Who sits in heaven will laugh, the L-rd will mock them. Then He will speak to them in His anger and in His wrath He will terrify them."
Got that? So David is stating that G-d will speak to the Philistines, mocking them, and then G-d will say (says David) the following in
line 6
:
"I Myself (G-d) have anointed My king (King David) over Zion (the land of Israel), My Holy Mountain!"
Read
line 6
again.
"I Myself (G-d) have anointed My king (King David) over Zion (the land of Israel), My Holy Mountain!"
What does it say about messiah's character being holy?
Nothing.
Probably an error on the part of the list maker, but proof yet again that this list is unreliable.
In line 6 who is G-d speaking about?
Jesus?
Nope.
The messiah?
Also "nope."
The only thing mentioned as holy is the mountain!
King David is speaking and saying what he thinks G-d would say to the Philistines and David has G-d saying that G-d appointed HIM (King David) over Zion (Israel).
Continue reading
T'hillim / Psalm 2
in context and it is clear that it is about King David, not about Jesus (or "the" messiah). King David, speaking for G-d in this poem, is advising the pagan kings to turn away from paganism and to the one true G-d.
The quotes from the Christian bible given by the list maker do not link to
T'hillim / Psalm 2:6
and John 8:46 says nothing about Jesus' character being holy. John 8:46 says
"Can any of you prove me guilty of sin? If I am telling the truth, why don't you believe me?"
That quote says nothing of Jesus' supposed holiness, yet again showing that this list of 365 "prophecies" about Jesus is unreliable.
It truly seems that the list maker never expected anyone to check his / her sources to see if they were honest. I suggest each of you reading this do your own research to see if what I am writing to you is true contrasted with the list maker's claim.
The second "proof" reference in the Christian bible is stated to be Revelations 3:7 and it does call Jesus holy. . . .
"To the angel of the church in Philadelphia write: These are the words of him who is holy and true, who holds the key of David. What he opens no one can shut, and what he shuts no one can open."
Unfortunately for the list maker (and Revelations 3:7) Jesus' character is not addressed in
this psalm
– but the claim that Jesus is holy in Revelations 3:7 is refuted by the Christian bible itself time and time again. Jesus broke far too many mitzvot (disrespecting his parents, theft, encouraging others to sin, etc.) to be considered righteous or holy.
There are many examples in the Christian bible of cruel things in the name of Jesus. For example Luke 19:27:
Take my enemies, who would not have me rule over them, bring them here, and kill them before me.
Killing people who disagree with you is not holy. There are other passages which show a lack of mercy and holiness:
(Matthew 5:22),
Anyone who nurses anger against his brother must be brought to judgment. . . If he even sneers at him, he will have to answer for it in the fires of hell.
And
(Matthew 10:34),
Think not that I have come to send peace to the world. I come not to send peace, but the sword.
And
(Matthew 23:33),
You snakes, you generation of vipers, how can you escape the damnation of hell?
Whenever G-d castigates people in the T'nach the sinners are told that they can avoid the punishment by atoning for their sins and repenting. In his anger Jesus in the Christian bible offers no such redemption to people if they do not believe in him personally. . . this is not the actions of a holy person.
However, it is not necessary to prove Jesus holiness (or lack thereof) in debunking this supposed prophecy since it is not a prophecy and not about Jesus.
---
Powered by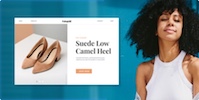 Create your own unique website with customizable templates.
Photos used under Creative Commons from dionhinchcliffe, paulasenciogonzalez, paulasenciogonzalez, amy32080, petersbar, Aaron Stokes, amboo who?, Damian Gadal, U.S. Fish and Wildlife Service - Midwest Region, SharonaGott, Udo Schröter, paulasenciogonzalez, Joybot, zeevveez, ianmunroe, freeqstyler, quinn.anya, Ivy Nichols, Groman123, UnknownNet Photography, torbakhopper, "Caveman Chuck" Coker, CarbonNYC [in SF!], dgoomany, Lion Multimedia Production U.S.A., oldandsolo, dbeck03