Psalms are not prophecy. They are found in כְּתוּבִים / Ketuvim in the T'nach (Writings). Prophecy is found either in the תּוֹרָה / Torah (Five Books of Moses) or נְבִיאִים / Nevi'im (Prophets). Ketuvim consists of stories, poetry, and histories -- but not prophecy.
T'hillim / Psalm 102
is a poem about the Jewish people (Israel). The
first twelve verses
use the analogy of a pauper who represents the exiled Jewish nation -- lonely, without friends and destitute in exile.
Verses 13-23
look past the exile, to the messianic era when the exile will be over and Jews returned to Israel (the land).
This did not happen with Jesus.
There were Jews living in the land of Israel (not a majority) in the time of Jesus 2000 years ago.
However, about 100 years after Jesus' supposed death the Romans exiled almost all the Jews -- removing us from "the land of the living" (Israel).
In other words yet again Jesus did the OPPOSITE of what we are told would happen. The exile happened not too long after Jesus' death -- and continued until 1948 with the creation of the modern State of Israel.
What of Calvary?
Calvary is not mentioned in the T'nach.
At all.
In the King James Version translation of the Christian bible the word "calvary" occurs only once, in Luke 23:33. It does not occur at all in more recent translations of the Christian bible.
And note that the claimed prophectic fulfillment is given as John 21:16-30.
But the Book of John ends with verse 25. There is no 26-30!
John 21:16-25 is about Jesus speaking to Simon and his followers before the book ends with the words "Jesus did many other things as well. If every one of them were written down, I suppose that even the whole world would not have room for the books that would be written."
Where is the suffering, or reproach -- not to mention Cavalry?
---
Powered by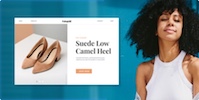 Create your own unique website with customizable templates.
Photos used under Creative Commons from dionhinchcliffe, paulasenciogonzalez, paulasenciogonzalez, amy32080, petersbar, Aaron Stokes, amboo who?, Damian Gadal, U.S. Fish and Wildlife Service - Midwest Region, SharonaGott, Udo Schröter, paulasenciogonzalez, Joybot, zeevveez, ianmunroe, freeqstyler, quinn.anya, Ivy Nichols, Groman123, UnknownNet Photography, torbakhopper, "Caveman Chuck" Coker, CarbonNYC [in SF!], dgoomany, Lion Multimedia Production U.S.A., oldandsolo, dbeck03