It might surprise you to know that no one knows what Jesus' Hebrew name might have been. All the early writings about Jesus are written in Koine Greek. Although some Christians think they might have originally been written in Hebrew, no early Hebrew texts exist. It is pretty unlikely that they were written in Hebrew as most of the biblical "quotes" are from Greek translations and not from the Hebrew. . .
Having said that, no one knows what Jesus' Hebrew name might have been (if he existed at all).
It became popular in the 1970s, when the "Hebrew Christian" movement took hold, to say that Jesus Hebrew name was form
יֵשֽׁוּעַ
Yéshu'a. There is a Hebrew name form
יֵשֽׁוּעַ
Yéshu'a -- it is a masculine name of a few people mentioned in the Talmud (none of whom lived at the time of Jesus -- some predate him by hundred years, others post-date him). But that name won't "work for Jesus.
Ἰησοῦς / Iesous (the Greek name given for Jesus in all the early papyri) would equate to the Aramaic
יֵֽשׁוּ
/ Yéshu. It does not and cannot represent the Hebrew form
יֵשֽׁוּעַ
Yéshu'a because Ἰησοῦς / Iesous would transliterate into "Jesuas" (not Jesus). Have you ever seen any Christians call Jesus "Jesuas"?
Why do so many missionaries want to insist that
יֵשֽׁוּעַ
Yéshu'a was Jesus' Hebrew name? Because they want to "tie" him to the Hebrew word for "salvation."
The Hebrew word for salvation, יְשׁוּעָה y'shu'ah, is a FEMININE NOUN.
Nouns in Hebrew are either masculine or feminine (there is no "gender neutral). Although the words are spelled somewhat similarly they are not the same word. Notice the spelling difference?
יֵשֽׁוּעַ (yud-shin-vav-ayin) is not the same as יְשׁוּעָה (yud-shin-vav-ayin-heh). Notice too that the vocalizations are different -- so although some consonants are similar, the vowels are different. The two words' pronunciation is very different: the vowel of the first syllable of יֵשֽׁוּעַ Yéshu'a is tzéré, a full-valued vowel having the sound of the "ay" in the English word bay and the accented syllable is the שֽׁוּ -shu-, whereas the yod in יְשׁוּעָה y'shu'ah is pointed with sh'va na, a "snatched" half-vowel that has no sound of it's own and causes the yod to be subsumed into the compound syllable y'shu-, and the stress in this case falls on the final syllable, -ah.
But we know without a doubt that although there were men named יֵשֽׁוּעַ Yéshu'a -- it could not possibly have been a Hebrew name for Jesus.
How do we know that Jesus' Hebrew name (if he had one) can't even be יֵשֽׁוּעַ Yéshu'a?
When a Hebrew word or name is transliterated into Greek letters, iota (I,ι) takes the place of the Hebrew letter י yod and sigma (Σ,σ or ς at the end of a word) replaces the Hebrew ש shin (because Greek lacks both consonants y and sh); furthermore in Greek, men's names regularly end with -s (e.g. Ἀρίσταρχος Arístarchos, Ἀρχιμήδης Archimēdes, etc).
The Greek version of יֵשֽׁוּעַ Yéshu'a would be Jesuas, not Jesus.
So, no, Jesus' Hebrew name is not "salvation." IF Jesus had a Hebrew name it would be a shortened version of Joshua /
יְהוֹשֻֽׁעַ
/
Y'hoshua.
Joshua /
יְהוֹשֻֽׁעַ
/
Y'hoshua
started to be shortened to
יֵשֽׁוּעַ
Yéshu'a
during the Babylonian Exile period, and this was shortened still further to
יֵֽשׁוּ
Yéshu
in the post-Biblical period after the Return (it is sometimes claimed by certain christians that this form is an insult and "stands for" the Hebrew phrase
יִמַּח שְׁמוֹ וְזִכְרוֹ
yimmaḥ sh'mo v'zichro
"may his name and memory be blotted out", but this simply isn't true).
It is a bit ironic that missionaries insist that Jesus' Hebrew name is יֵשֽׁוּעַ Yéshu'a.
Erchin 32b Gemara
(commentary in the Talmud) points out that that the verse writes Joshua / יְהוֹשֻֽׁעַ /Y'hoshua's name without the letter "Heh" ( יֵשֽׁוּעַ Yéshu'a). The Gemara says the missing "heh" has a negative connotation; it implies that Y'hoshua should had the Jews observe Sukkot earlier. This is based on
Nechemiah / Nehemiah 8:17
:
"And all the congregation of the returnees from the captivity made booths and dwelt in the booths, for they had not done so from the days of Jeshua the son of Nun until that day, and there was exceedingly great joy."
How does the Gemara infer this from the missing letter "Heh" letter "Heh" in Y'hoshua's name?
Joshua / יְהוֹשֻֽׁעַ / Y'hoshua
lost an opportunity for the Jews to perform a very important mitzvah (Sukkot). Thus the "heh" was removed from his name in the verse as a way of showing that he did not fulfill the potential given to him by Moshe Rabeinu (Moses).
So why missionaries would pick a name which is considered diminished in honor is anyone's guess!
---
Powered by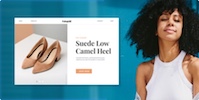 Create your own unique website with customizable templates.
Photos used under Creative Commons from symphony of love, Lawrie Cate, bschmove, Art4TheGlryOfGod, ToGa Wanderings, rottnapples, GotCredit, Israel_photo_gallery, ePublicist, KAZVorpal, jeronimoooooooo, Chajm, Kawee6281, Jim Linwood, Martin Comeau, Chajm, Hugo90, Karim D. Ghantous, Leonard John Matthews, Waiting For The Word, jumpinjimmyjava, Emma Fierberg, Abundance Thinkers, GlasgowAmateur, torbakhopper, WarmSleepy, M. Martin Vicente, slgckgc, Steven DuBois, Waiting For The Word, Soma Kondo, Themeplus, aldenchadwick, ePublicist, torbakhopper, dno1967b, Ian W Scott, Israel_photo_gallery, Ben Sutherland